Saturday, September 08, 2018, 08:00am - 05:00pm

by
This email address is being protected from spambots. You need JavaScript enabled to view it.
The Fall Conference of the Boston Archdioces Charismatic Renewal will be held September 8 at Immachlate Conception Church in Malden.
Michelled Moran, past president of the International Catholic Charismatic Renewal will be the main speaker.
Simultaneous translation in Spanish and Portuguese will be provided.
SHORT CCR Biog: MICHELLE MORAN
Michelle together with her husband Peter is a founder member of Sion Catholic Community for Evangelism and has been involved in full time ministry for over 30 years. She is a widely travelled preacher, teacher and evangelist. She is an author of several books on evangelisation and numerous articles
Michelle, graduated from London University with a B.Ed in Religious Education and Sociology, taught in a college for 5 years. In1998 she completed her MA in Pastoral theology at Cambridge.
Michelle served as President of ICCRS, (International Catholic Charismatic Renewal Services) based in the Vatican from 2006-2017. She was a member of the Pontifical Council for the Laity from 2008 - 2016.
Recently Michelle was personally appointed by Pope Francis to work on establishing new structures for the service of Catholic Charismatic Renewal in the Church.
Michelle Moran Past President of International Catholic Charismatic Renewal Services in Rome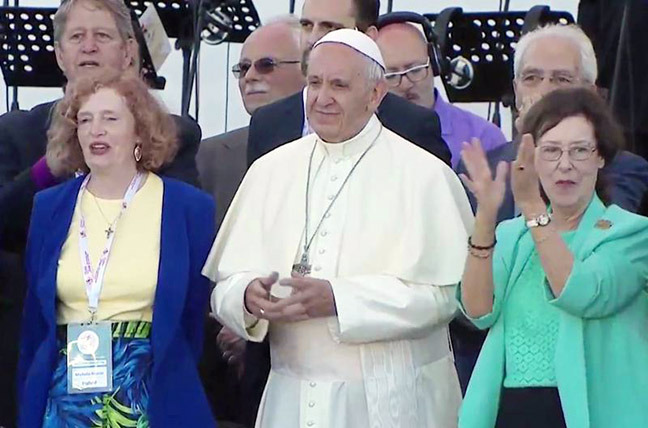 Michalle Moran, Pope Francis, and Patti Gallagher-Mansfield at the 2017 Pentecost celebration in Rome.
Location
Immaculate Conception - Malden
600 Pleasant ST
Malden
MA
781-324-4941