Dave Brooks provided the following report on the CRS Boston pilgrimage to celebrate the golden anniversary of Catholic Charismatic renewal.
As you know, the pope extended the invitation to join him for Pentecost 3 years ago, as the Great Jubilee was approaching. So, of course, I said YES!!! 16 of us pilgrims left on Memorial Day, May 29, and returned on June 7. There were 4 Anglos, and 12 Brazilians - Anglos were myself, Vin and Cheryl, and Jeannine Beaudoin. Pacceli Braga led the tour.
For me, the two key days were June 2 and 3. On June 2 about 350,000 charismatics met at the Circus Maximus, where the chariot races used to occur, for a gathering, featuring, in English, a program put on by the International Catholic Charismatic Renewal Services (ICCRS), featuring Michelle Moran and some of the participants of the Duquesne University experience, including Tom Mangan and Patti Mansfield. Then we were treated to a video about the Renewal, and Mass followed.
The next day was the highlight for me, when the pope appeared at the Pentecost Vigil prayer service at the Circus Maximus around 5:30 pm with half a million charismatics in attendance. Just after he spoke, the half a million people spoke and sang in tongues, as the pope has his hands outstretched on the stage where he was standing, receiving what we had to to offer. That whole day was like "Catholic Charismatic Woodstock!!!" That's why I went, to support the pope and to celebrate Pentcost with him and the other pilgrims.
We will continue the celebration in July at Pittsburgh. The Pentecost Mass in St. Peter's Square was anticlimactic for me. The Mass lasted 2 and one-half hours, and we had to stand in the broiling sun, eventually seeking out shelter out of the sun.
So, that's it! Good to be back home. Also visited Assisi, Cascia, and San Giovanni Rotundo. See you soon!
Blessings,
David
Vin Ceaasuolo sent photos of the huge crowd gathered in Circus Maximus.
Diane and Earl Martin shared photos as they and another Boston area couple attended Pentecost in Rome and a Holy Land Pilgrimage with Father Sean Sheridan TOR, President of Franciscan University of Steubenville
CLICK HERE FOR THE ENTIRE PHOTO ALBUEM.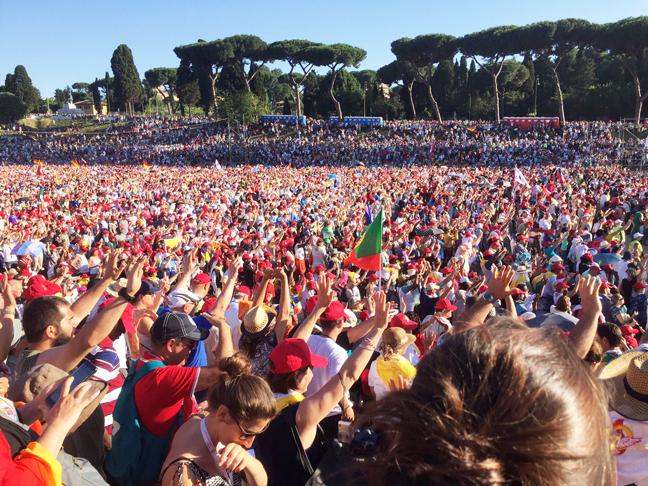 Charismatic Catholics Praise God in Rome's Circus Maximus''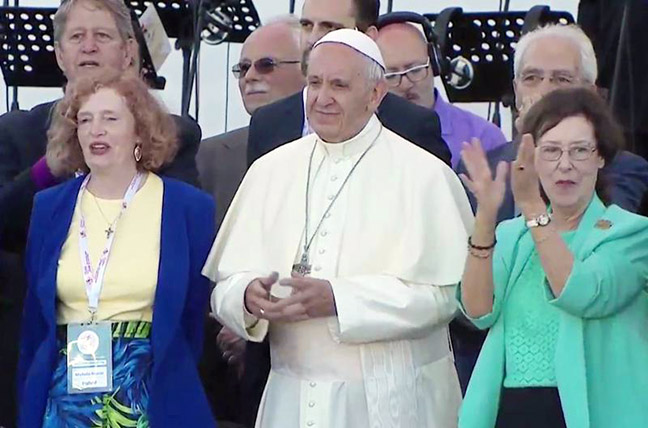 Michelle Moran, Head of ICCRS, Pope Francis, an Patty Mansfield lead praise at the Circus Maximus Pentecost Vigil